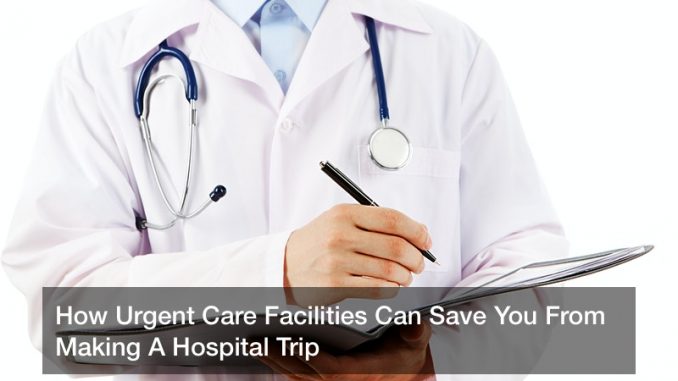 If you find yourself suffering from the flu, from minor cuts and scrapes, back pain or the common cold, one of the best things you can do for your health is to visit an urgent care facility.


What is an urgent care clinic? Essentially, it's a type of walk-in clinic where you can get in to see a doctor much faster than you would at the ER and where you can be treated for an ever-growing list of non life-threatening medical issues. More than three million people visit US urgent cares every week and it's not hard to see why.


Dealing with the effects of a sports injury? Feeling some muscle strain after doing some work around the yard? Dealing with something a little more personal like an STD?


Guess what? An urgent care clinic can treat patients for all of those things plus ear infections, dizziness, sprains, fevers, colds, poison ivy outbreaks and many other things.


Some of them might vary in the services they offer, but when it comes to urgent care facilities what all of them offer is a quicker and more cost-effective way to treat a number of common, everyday medical ailments. No one really enjoys going to the doctor and at an urgent care, you can save time, money and get on with your busy schedule much easier.


Before you visit an urgent care, it's important to look at a few things. Like almost everything, there are several pros and cons that come with the decision to visit an urgent care including:
Pro—Convenience: If you're always on the go and you're in need of health care, you want convenient treatment options that are efficient and easy to get access to. Urgent cares offer just that. They're usually located in easy-to-find spots and many retail clinics offer patients access to quick treatments such as flu shots and Z-packs.
Con—Deferral to hospital: Before you visit an urgent care, you'll want to educate yourself on where you can receive care. You may visit an urgent care for treatment, only to be referred to the hospital or ER. Before you go anywhere, do some research into your problem and figure out the best course of action.
Pro—Cost: Urgent cares can offer treatment at much lower rates than hospitals. If you're on a budget, urgent cares work great because they offer price transparency where you can see how much different treatments cost before you buy anything.
Con—Potentially higher costs: Though urgent care centers can help you save money, they might end up costing you more over time. This is because urgent care centers are easy to visit and patients may grow prone to visiting them every time they come down with something, rather than trying remedies at home and letting a sickness run its course.

More than half of urgent care facilities have a wait time of less than 15 minutes and most of them have a physician on site at all times to treat patients. Additionally, urgent care centers stay open longer. Most are open until at least 7 p.m. on weekdays and some are even open until 9 p.m. or later. Depending on where you live, you may find urgent cares that open prior to 9 a.m. and are even open on weekends.


If you've got a life-threatening issue, please do what's best for your overall health and visit the emergency room. The last thing you want to do is roll the dice on your health just to save money or time. Emergency room doctors play an important role in medical care and if you're suffering from a severe injury or something like food poisoning (something near 50 million Americans experience each year), they're the ones to see.


But for non life-threatening injuries and common, easily-treatment symptoms and conditions, an urgent care facility can save you time and money while offering you treatment for a wide variety of things.