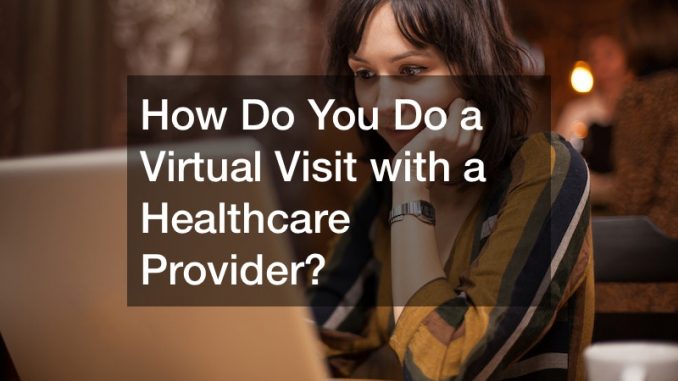 Technology has revolutionized countless industries and sectors globally. The medical sector has thrived because of these changes. A patient can access medical care using simple gadgets like a phone with internet access. Remote medical assistance that isn't inhibited by time or location is the main idea behind virtual healthcare.
How Do You Do a Virtual Visit? Anyone can access virtual healthcare regardless of their geographical area. It has made medical access much easier; therefore, many health issues get swift responses and solutions. Virtual healthcare uses technological communication and other modern equipment to assess, diagnose, monitor, and treat patients. They also provide a platform where patients can make general inquiries and get rapid solutions.
Visit A Hospital Website
Healthcare is a crucial aspect of daily life. Many facilities have provided services to countless patients for many years. However, these facilities are often full or understaffed and, therefore, may not be able to handle all the patients that come through. Technological advancement has alleviated this problem by providing a solution – virtual health care. Through a simple click of a button, a patient may get access to online doctors and get started with their health plan.
Most virtual healthcare programs are easily accessible, and patients can get help even internationally. Most design their websites to be accessible even through mobile phones, and some additionally create apps that make it easy for the patients to get the necessary help. Patients can create a profile with their details, allowing them to navigate more quickly through the platform. Many healthcare websites also provide profiles for doctors, allowing patients to navigate with ease, especially if they need a specialist.
Typically, a facility with a good website design should be easy to navigate and have a simple mode of communication. Video conferencing is particularly popular because it is interactive, and through it, the doctors are also able to observe or even monitor the patients. However, there are some other modes of communication as well, such as emails, texts, and live chats. Most facilities provide different methods to allow the patient the flexibility to choose which one they prefer.
Patients who opt for virtual care are often in distress or pain. Opting for a facility that offers quick responses and minimal wait time is essential. An added advantage is that most sites provide 24hr care, which is convenient during emergencies. Since patients cannot diagnose themselves, doctors can easily direct patients to the care they need.
When designing a website, remember that each hospital is different. Give the website a unique touch that echoes the theme of the brand. A good website has certain qualities that make it stand out and generate traffic. It takes away the uncomfortable and awkward waits in waiting rooms, and it is an incredibly safe way of treatment for those with contagious diseases or immunocompromised systems.
Virtual Dental Care
Believe it or not, virtual dental care is a reality, and it is commonly referred to as teledentistry. The main aim is to allow patients to receive a broad spectrum of dental services without the constraints of distance or geographical location.
There are many reasons for a person to seek virtual dental care. For instance, dentists can solve some general dentistry issues quite easily and quickly. Instead of waiting for an appointment or queuing for long hours, an online dentist may provide them with solutions from the comfort of their homes.
Virtual dentistry is budget-friendly allowing many patients to access these services. But what exactly does a visit with a virtual dentist entail? While dental care doesn't seem possible remotely, there are some crucial aspects of assessment that teledentistry can assist. Video conferencing and sharing images with doctors, for instance, are great tools for doctors to assess the patients remotely and come up with diagnoses and specific treatment plans. They can also schedule follow-ups or in-person appointments.
Patients often have questions, sudden pain, or other problems with their teeth. These may come during awkward hours or while they are far from their usual dentist. Here are some symptoms and concerns that cause patients to reach out to a dentist.
General dental consultations
Toothaches
Oral lesions
Gum trouble
Broken or chipped teeth
Crooked teeth in need of straightening
Possible cavities
Impacted teeth
Monitoring of teeth after a procedure or treatment
Teledentistry is also made possible by several other technological advancements that have made diagnosing conditions easier, more accurate, and, therefore, the treatment more specific. In situations where a tooth is broken or missing, procedures such as implant dentistry are the best solution. However, the procedure can be tricky without proper imaging. CT scans and Cone Beam Imaging provide high-quality, 3D images that would be crucial before the dentist can begin any treatment. The pictures are essential for evaluating several things, such as; The size and shape of the patient's jawbone, the position of the teeth, the health of the teeth, and the thickness and health of the gums.
Some patients may also opt for alternative methods of dental care. Mainly focusing on natural remedies, they provide their patients with invaluable solutions to their patients. Holistic dental offices may offer both in-person and remote healthcare options. The dentists are licensed and will focus on natural remedies that provide great preventative solutions. In some situations, they may combine both traditional and alternative methods.
Virtual ENT
Otolaryngology is a specialty in healthcare that focuses on the ear, nose, and throat. These are typically some of the most sensitive parts of the head, and they require special care. However, remote meetings are great for inquiries and first appointments. The specialists can assess the general situation and even provide advice based on the same.
There are some conditions that specialists can diagnose and even prescribe treatment for remotely. Some ailments include; allergies, viruses, sinuses, and general infections. Also, the patients can make inquiries and get advice from anywhere in the world. You can also seek out an online doctor based on your specific issue. For example, if you're dealing with a sore throat, you may want a throat specialist or seek an ear specialist if you suffer from hearing loss.
Virtual Eye Care
Eyes are crucial for day-to-day activities. It can be uncomfortable and alarming when your eyes aren't in their best health. The best option is to seek medical help. Fortunately, you can get help even online. An eye care center offer virtual examination and treatment, making it easier to get medical help.
Multiple symptoms may make a patient want to see an eye doctor. Some of them include; swollen eyelids, watery eyes, dryness, itchiness, redness, discharge, pain, floaters, or change in vision. Knowing your symptoms makes it easier for the eye specialist to discover the problem and properly diagnose it.
When seeking treatment, it is advisable to list the names of any medication that you may be on. Choose a mode of communication that you're comfortable with. Clear communication is critical. Ensure that your environment is not only quiet but that you are also comfortable enough to speak to the specialist. Many tests, such as vision or dry eye tests, can be conducted online. These help determine whether your current prescription needs to be renewed or not. However, if the specialists cannot solve the condition virtually, the facility can help arrange an in-person meeting.
Virtual Veterinary Care
Virtual healthcare has not only benefited people but also animals. How do you do a virtual visit? You can access a virtual veterinary facility if you have a computer or mobile phone with internet access. Anyone who has pets knows how devastating it can be when they aren't in the best of shape. A sudden illness, injury, or persisting symptoms can cause a pet owner distress, especially after business hours. Fortunately, with online pet medical care, your cat, dog, bird, fish, or any other pet can get the required medical help.
If you are seeking urgent medical help for your pet, you must find a readily available facility. Virtual pet care that is open 24/7 is particularly beneficial. Even if you are in a different time zone, you needn't worry about the time. Regardless of whether the situation requires some simple advice or the condition is severe, it is comforting to know that when you seek the services of a pet medical care, you will find the necessary help promptly.
With the help of video conferencing, texts, emails, and phone calls, a vet can assess the animal. Although coming up with a complete or accurate diagnosis may be difficult, some of the symptoms may be identified and dealt with. In some cases, the vets will offer advice on the best way forward, suggest treatment options, and schedule in-person meetings. However, the services of an online medical facility are numerous and will vary depending on each. Services may range from general consultations, grooming advice, nutritional recommendations, medication delivery, etc. An added advantage of these virtual services is that some of the facilities may connect you with vets in your area who may be able to see and treat your pet promptly. Their advice is also great because they can tell pet owners which situations are minute, the ones that can wait, and severe cases that should be dealt with promptly.
Telemedicine Equipment
Telemedicine is the remote treatment of patients. Despite the initial reluctance of patients to embrace the mode of treatment, it is rapidly growing in popularity. Whenever a patient visits a traditional medical facility, there are equipment, personnel, and supplies that they expect to see. The same is true of online medical services. While the fundamental aspects such as computers and high-speed internet are common, there are a few others that are crucial. Here are some examples of essential virtual medical supply.
Remote Vital Monitoring: Certain conditions require close monitoring, and medical personnel can still keep a close eye on their patients through various online platforms. Patients can have some of the equipment at home to measure blood pressure, pulse, glucose levels, oxygen levels, etc.
High-Quality Cameras: While cameras make video conferencing possible, cameras with higher resolutions are necessary to give a precise diagnosis. Specialists such as dentists, dermatologists, or radiologists use these for more specific diagnoses and treatment options.
Electronic Pill Dispensers: It is a way for doctors to manage patient prescriptions. With the help of video conferencing and live chats, doctors can discuss the medications with patients and even monitor how they respond to the treatment. It is an excellent option for patients with chronic illnesses.
Virtual Skin Care
Skin health is a huge deal. The market is full of different products promising youthful-looking skin and solving every skin problem. Regardless, many people suffer from a lot of skin issues. Rather than seeking over-the-counter solutions or googling their symptoms, they can seek a professional's opinion as the best option to avoid aggravating any existing problem. Virtual skincare is affordable, and patients can recover from treatment relatively fast.
Fortunately, many dermatologists can assess and diagnose skin problems virtually. The dermatologist can provide treatment for conditions such as acne, rosacea, hyperpigmentation, wrinkles, eczema, or warts. You may seek platforms that are specific to an illness or that deal with a wide range of issues.
A dermatologist may look at your skin through a video call or share photos to determine its condition. Forms, questionnaires, or quizzes about medical history, skin type, and much more are some other ways they can assess the skin condition. After the diagnosis, they may prescribe oral or topical forms of treatment. Sometimes, a follow-up or even an in-person meeting may be necessary.
Wrapping Up
There are many benefits that virtual healthcare provides for countless patients daily. During odd hours when getting medical access may be difficult, patients can get access from several facilities online. It is an invaluable solution for those in remote geographical areas or who need help without long waiting periods. The ease of access as well as the affordability could potentially save lives and also means that more people can access proper healthcare.