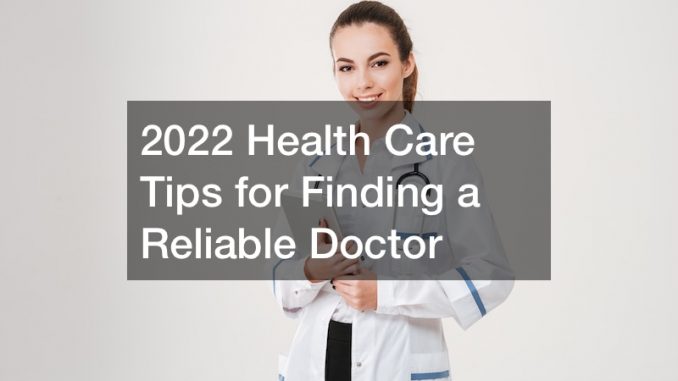 Finding a doctor who can offer you treatment properly is critical, especially if you have a chronic illness. But, with so many certified doctors available, not all of them are great choices. According to a 2015 report by The Washington Post, most Americans encounter a wrong or late diagnosis at least once in their lives; you don't want to be another statistic because it can be detrimental. When you check online physician reviews, you'll find many doctors who appear qualified and trustworthy, but that doesn't mean they're the right fit for you.
Therefore, how can you find a good doctor who suits your needs? What criteria should you use to narrow down your search to find the best doctors? In this review, we'll look at 2022 health care tips for finding reliable doctors that are the right fit for you. This discussion aims to help you feel more in control of your health and well-being so that you can eliminate the uncertainty of doctor visits and mitigate risks. Let's go!
Know The Type of Doctor You're Looking For
Not all doctors are the same; doctors specialize in different kinds of problems and patients. Let's look at five categories of doctors that make up the primary caregiver role:
Family Practitioners
Family practitioners offer care to persons of all age groups. These general physicians treat chronic conditions by diagnosing symptoms and offering preventative care. They will let you know when you need to see a specialist like a chiropractor, dermatologist, etc. They also perform simple surgeries and can do deliveries and obstetrics. You'll often find a family practitioner in their own private office or with a couple of other family practitioners. However, you can also find them in a community clinic, hospital, and rehabilitation center.
Internal Medicine Providers
Internal medicine providers are specialists who apply clinical expertise and scientific know-how to diagnose, treat and offer empathetic care to adults for all issues from basic health to complex illnesses. Internal medicine providers are especially great at diagnosing puzzling medical problems in patients with chronic illnesses and providing care to patients with more than one condition. They also specialize in disease prevention and health promotion.
Pediatricians
A pediatrician is a physician who treats infants, kids, adolescents, and young adults, basically persons between one day and 18 years. Pediatricians play a vital role in the health of kids by offering a wide range of services, from performing regular health checkups to diagnosing, treating, and providing care to kids with injuries and illnesses.
Gynecologists (OB/GYN Providers)
Gynecologists, also known as OB/GYN providers, specialize in women's health, including care when pregnant. They offer services such as performing PAP smears (cervical cancer screening), routine pelvic assessments, and family planning advice.
Geriatricians
Geriatricians are primary care physicians who have additional training in providing additional care to seniors, especially those aged 65 and above. People aged 65 and above often have complex health issues and need special care. A geriatrician can be a consultant, or primary care physician, or work in a team of physicians tending to older adults.
Note that whichever primary care physician you pick, they should be your first stop for any queries regarding health and wellness, including injuries from a metro accident, and recommending health accessories such as a hearing aid, wheelchair, etc.
Get Referrals as Opposed to Reviews
Once you've decided on the type of doctor you want, get a personal referral from a trusted family member, friend, or work colleague. Have a detailed discussion with the person providing the referral. Here are some questions you can ask them:
What made you refer me to this doctor?
Is this your primary care physician?
Is there any other doctor you can refer me to?
You might be wondering what about checking online reviews. Well, there are so many doctor review sites, and a typical search for a doctor comprises several clicks on Google and roughly 15 minutes of reading the review. Therefore, if you find that the physician has multiple five-star ratings, they must be good at what they do, right? Not necessarily.
To be honest, online physician reviews can be skewed to favor a specific physician meaning their overall ratings will be higher. Plus, just because a certain person said they had a good experience with the doctor online doesn't mean you'll have the same experience. Also, online reviews only capture the doctor's day-to-day behavior; they neglect other aspects like the physician's background, training, and experience, which are essential.
Keep in mind that referrals can also be misleading; therefore, be careful. While a primary care physician you're referred to by a loved one can be reliable, we recommend that you continue your search using the criteria listed below.
Begin Your Search
Once you know the type of doctor you want and you've got a referral from a friend or family member, there are a couple of other things to consider, including:
Hospital Affiliation
The first 2022 health care tip for finding a reliable doctor is checking hospital affiliation. Why? Because health procedures that need you to go to a health care facility will be done at the hospital with which a doctor is affiliated. If you know the type of procedure you need, find out if the hospital the doctor is an affiliate with, offers it and the possible outcomes. You can also check the ratings of the hospital online on a reliable platform like Leapfrog. This platform grades hospitals based on their readmission rates, safety protocols, surgery success rates, etc. As mentioned above, you should take information from online review sites with a pinch of salt. You'll need to do more research to get a better picture of a health facility.
Board Certification
Board certification is the second 2022 health care tip to find a reliable doctor. When a doctor has been certified by the ABMS (American Board of Medical Specialities), it means they have a medical degree from a recognized higher learning institution, completed between three and seven years of residency training, is licensed by your state medical board and has passed ABMS exams. To see if a physician is certified, check the Certification Matters portal.
Experience and CE (Continuing Education)
The third 2022 health care tip to finding a reliable doctor is experience and CE. Only choose a doctor with enough experience to provide the best care. Also, look for a doctor with additional medical training and certifications and one that continues to delve into research.
Years of Practice
The fourth 2022 health care tip for finding a reliable doctor is years of practice. Some people feel anxious about receiving care from new doctors. For instance, if you want a specific service like skin tightening, choose a doctor with experience to get the best results.
Consider Compatibility
The fifth 2022 health care tip to finding a reliable doctor is compatibility. According to an AP (Associated Press) study, more than half of US citizens focus on personality and relationships when selecting a primary care doctor. You need a doctor that listens to you without interrupting, answers all your questions, and explains your diagnosis. You'll find that when a doctor does this, you'll have a very good relationship with them. For instance, if you need neurological rehabilitation, you need a very caring and understanding doctor.
Enquire About Drug Representatives
The sixth 2022 health care tip for finding a reliable doctor is enquiring about drug reps. Many doctors allow representatives from drug companies to pitch their drugs. This can inappropriately influence the doctor's choice of medication. What's the problem? Such a physician can get you started on medication that isn't right for the exact injury or illness you have. They may also give you expensive drugs, although cheaper ones are available.
Enquire About Office Policies
The seventh 2022 health care tip for finding a reliable doctor is enquiring about office policies. Therefore, you should enquire how long it takes to get an appointment (it should be less than a week). Also, ask if they have same-day appointments, how long patients wait in the lobby and whether or not they accept third party medical billing. This is important because not only do you save time, you may have emergencies sometimes and can't wait.
Scrutinize The Hospital Staff
The eighth 2022 health care tip for finding a reliable doctor is scrutinizing the hospital staff. This includes the people who book your appointments, give the doctor messages, address insurance concerns, etc. Check if the doctor's team is efficient, friendly, and respectful. Health care is a sensitive topic; you should only go where you get the most value.
Willingness to Refer
The ninth 2022 health care tip for finding a reliable doctor is a willingness to refer. Choose a primary care doctor who isn't afraid to refer you to another physician if you have a problem needing specialized treatment. For instance, if you need a face lift surgery, the primary care physician should have a list of plastic surgeons they can refer you to.
Technology
The tenth 2022 health care tip for finding a reliable doctor is technology. You should choose a doctor who is tech advanced. For instance, they should have an E-health record system that allows them to track patients' medical history and monitor their medication. Some doctors have a patient portal where you can access your health information, including lab results. A patient portal also lets you book appointments, request drug refills, ask questions, etc.
Watch Out for Red Flags
Red flags in this instance include disciplinary actions and malpractice claims. Note that even good physicians encounter lawsuits once or twice in their careers. Still, you don't want a doctor who is constantly being charged with malpractices, including substance abuse, inappropriate behavior, issuing sub-standard medication, etc.
Check with Your Insurance Carrier
Assuming you're enrolled in a group insurance company, find out which doctors are in their network. Although this step is essential, you shouldn't allow restrictions from your insurance provider to limit you from getting the care you need and deserve.
While most people don't have the finances to see a doctor, not in their insurance provider's network, that doesn't mean that an out-of-network primary care provider won't offer affordable treatment. Most doctors genuinely care about their patients and will often discount their services if you find them expensive. If you find an in-network physician who can offer the best treatment, that's good, but if you don't, other doctors can be an option for you.
Set up a Meeting with The Primary Care Physician
Once you've narrowed down the list of possible primary care physicians based on their background, experience, and whether or not they're part of your insurance provider's network, the final thing you should do is meet them. Most doctors are happy and ready to speak to you if you pick up your phone and call their office.
Once you've done all this and one of the physicians feels like a good fit, congratulations, you've found the right fit. If they still don't feel like the right fit, keep searching because there are many doctors out there, and being a bit more vigilant can yield results.
Finding a new physician can be tricky, especially if you've had one for years; therefore, be patient. In addition, it's vital that you manage your expectations when looking for a new and reliable doctor; they might not be exactly like your previous doctor. If you give them a chance, you'll find that they can offer proper care. The relationship you forge with them is very important, as is their attention to detail when diagnosing and providing care to you. Just find yourself a primary care physician who will become your partner in health.
Once you have your doctor, if you are struggling to pay your medical bills, we have a solution for you. Jericho Share is a faith-based health insurance alternative that dedicates itself to helping its Christian members afford their medical bills instead of being swamped by debt. If you are looking for aa way to pay for your medical visits, contact Jericho Share today for more information on their services.
In conclusion, listed above are the top 2022 health care tips for finding a reliable doctor. Regardless of the doctor you're looking for, whether a primary care physician or a specialist physician like a dermatologist, these tips should help you narrow down your search.