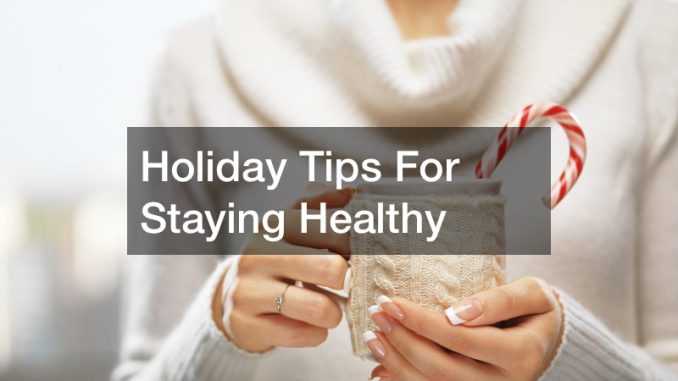 The holidays can be a stressful time period for many. From working professionals that need time to complete huge, end-of-year projects, to busy moms and dads trying to shop for their families, it's a busy time for many. In addition, added celebrations and food consumption can also end up affecting our health, not to mention the cold weather!
Fortunately, there are a variety of things you can do to ensure you stay healthy this winter, and continue to be able to enjoy the holidays with your loved ones! Below are some of our favorite holiday tips for staying healthy you can use not just during the winter, but all year long!
1. Incorporate More Exercise
Exercising is well-known for its incredible amount of health benefits and ability to reduce the chances of chronic disease. Unfortunately, during the wintertime, it can be difficult to get outside and go for your usual job. Don't let the holiday stress and weather discourage you from getting your usual amount of exercise. Opt for indoor workout routines such as body-weight exercises, weight lifting, even jump roping if won't bother any downstairs neighbors! Exercise is a great way to keep you healthy, in shape, and also improve your immune system so you won't suffer the effects of the seasonal flu bug!
2. Reduce Work Stress
In addition to exercise, there are many other methods you can use to reduce work and other stress in your life. During the holidays, the end-of-year projects at your company can quickly add up, causing you to feel overwhelmed and stressed. Stress can lower your immune system's ability to fight off infections in addition to leading to chronic diseases. Such diseases need healthcare professionals to treat, such as high blood pressure, diabetes, chronic pain, and more. This holiday season, make an effort to reduce your workload by turning down work assignments you feel too stressed to handle. There's nothing wrong with saying no, especially if it makes a difference in your health status.
3. Use Daily Meditation
Practicing meditation is one of the best holiday tips for staying healthy. Meditation is a great way to not just reduce stress, but also develop new neuroconnections that can help you think clearer, reduce anxiety, and improve your overall well-being. Best of all, meditation only takes 15 to 45 minutes a day to be effective. Meditation can help relax you during the hustle and bustle of the holidays. The holidays can, unfortunately, also worsen mental health conditions in some people. Meditation can help you feel centered, grounded, and ready to take on the holidays and the upcoming new year. Find guided audio meditations online to help you.
4. Visit a Chiropractor
Chronic and acute pain is something many people have to deal with, and it can get worse during the holiday months. The cold weather can worsen the effects of arthritis and sore joints on some people. Stress from the holidays can also lead to muscle tension, causing headaches and other physical ailments. A chiropractor can help you reduce muscle tension, muscle spasms, and increase your mobility by providing treatment such as spinal adjustments, manual adjustments, and massage therapy. If you're looking for a holistic treatment option for pain this holiday season, a chiropractor is your best bet.
5. Continue with Doctor Visits
It can be difficult to take time for yourself during the holidays. However, you should continue to visit your local doctor offices and keep up with routine medical exams during the holidays. Checkups with your doctor are essential so you can know the status of your health. This is especially true if you have a pre-existing condition, such as diabetes or an auto-immune disorder. Don't let the holidays stop you from scheduling and keeping important doctor's appointments.
6. Focus on Foot Health
During the holidays, millions of Americans find themselves walking around shopping malls, walking around for work, and generally in a busier state. All this walking around can damage your feet if you don't get some shoes that offer support for your feet and back. It's important to not just get better shoes that keep your feet comfortable and warm, but also visit the best podiatrist if you're having other foot health concerns. Poor foot health can lead to issues with back pain, balance, and lead to painful conditions such as plantar fasciitis. Don't let this happen to you during the holidays!
7. Splurge on Yourself
While you might be busy buying presents for your family, take this holiday season and also splurge on yourself and practice self-care. Whether that means taking time off work, taking a solo shopping trip to the mall, or even buying yourself a trip to the medspa, there are many ways you can practice self-care and stay healthy this holiday season. Taking time to practice self-care can help with stress, anxiety, and also improve your self-confidence.
8. Eat a Balanced Diet
During the holidays we tend to consume more food. This extra consumption of food isn't necessarily a bad thing, but it's important to consume holiday meals in moderation. One of the best holiday tips for staying healthy is also to still maintain a healthy diet during the holidays. If you're cooking or visiting a friend or family's house for dinner, make sure to eat lots of fresh fruits and vegetables, and opt for making meals with leaner meats such as chicken, fish, and lean turkey.
9. Seek Therapy if Necessary
The holidays can be a cheerful time for many. However, the holidays might bring about feelings of depression and worsen symptoms in people with seasonal affective disorder, also known as SAD. If you're suffering from feelings of depression, loneliness, or worsening anxiety due to higher levels of stress, it might be helpful to seek help from a professional therapist or psychologist. These healthcare professionals can not only offer talk therapy but also help recommend other treatment options such as medications to help you improve your mood.
10. Stay Bundled Up
One of the simplest holiday tips for staying healthy is to stay bundled up and warm this season. Although the cold weather won't necessarily carry more germs in the air, so to speak, colder weather might affect your immune system and increase your susceptibility to getting sick. Staying warm is also crucial if you're spending this holiday season working outdoors in the cold weather. Staying warm can help prevent hypothermia, and also prevent stuffy and runny noses that result due to cold weather. If you're still suffering from sinus issues while bundling up, it's best to visit and throat and ear doctor for advice.
11. Get all your Vaccines
From the yearly flu shot to other vaccines, staying up to date on your vaccines can help prevent serious illnesses this coming winter season. Vaccines can also help you stay healthy and protect those around you. You can easily get vaccines at local pharmacies or a trip to your local medical and urgent care. Getting a flu shot and vaccines is one of the most effective holiday tips for staying healthy.
12. Reach Out to Friends
Even if you don't require or want the help of a therapist, one of the best holiday tips for staying healthy and connected is to reach out to friends and other support groups if you feel you need to. This is especially important if you're recovering from addiction, as you can experience worsening cravings around the holidays. Seek support from local AA, NA, or CA meetings or from friends to help you get through the holidays.
13. Cut Down on Smoking
Smoking can have a number of negative effects on your health. These can include emphysema, COPD, and certain cancers. In order to protect your health and improve your quality of life, try to cut down on smoking this holiday season. Nicotine patches and smoking cessation therapy can all be effective at helping reduce cravings and getting you to quit.
14. Cut Down on Drinking
During the holidays, alcohol consumption is standard in many family and friend gatherings. However, it's important to reduce your alcohol consumption and drink responsibly in order to prevent issues such as alcohol poisoning. Drinking alcohol can also impair your ability to drive, which is perhaps why many drunk driving accidents occur during the holiday. Stay safe while drinking, and follow the CDC guidelines for drinking.
15. Practice Journaling
Journaling has been shown to reduce stress, get your thoughts out on paper, and also help you stay organized. Journaling is, therefore, one of the best holiday tips for staying healthy! Using a journal every day to jot down your thoughts is a simple, yet effective way to help you get through all the added stress and duties this holiday season. Lowering stress is always a great way to improve your immune system's functioning, lower blood pressure, and improve your health overall.
16. Take Care of your Skin
Your skin can get extremely dry during the cold, holiday months. For holiday tips for staying healthy and looking great, make sure to continue to care for your skin. Use a daily moisturizer not just on your face, but also on your hands to avoid cracked skin. If you have other concerns about the state of your skin, visit a Botox doctor that can offer treatments to tighten skin.
17. Stay Hydrated
During the winter months, the sun can still continue to beat down on you and your loved ones, especially if you're outside on a sunny cold day. For one of the best holiday tips for staying healthy while vacationing or working outdoors, make sure to stay hydrated. Dehydration can have serious medical consequences, including losing consciousness and hospitalization. Make sure to drink at least half your body weight in ounces of water daily, and more if you're continuing to exercise and work outdoors during the holidays.
18. Wash your Hands
Germs can easily spread, especially when you and your loved ones are gathered indoors during the chilly winter months. Washing your hands should be the most common-sense holiday tip for staying healthy, and it can prevent serious diseases from spreading and affecting your entire household! Wash your hands after and before handling food, after shaking hands, petting your dogs, and when they're visibly dirty. Wash your hands for at least 20 seconds with warm soap and water.
19. Practice Food Safety
During the holidays, you will be cooking lots of food for your loved ones. While cooking, make sure to practice proper food safety in order to prevent food-borne illnesses from making your loved ones sick. Never leave food out in room temperature for more than 2 hours, and never mix raw meats with cooked meats. For more information, make sure to research the food safety tips for the specific food you're handling. If you're unsure of whether or not something is safe to eat, or your leftovers smell off, toss it as it's better safe than sorry!
20. Practice Fire Safety
Holiday Christmas lights, firepits, and scented candles can provide a beautiful ambiance to your home, but they can also pose a safety hazard. This holiday season, one of the best holiday tips for staying healthy and avoiding accidents is to practice good fire safety. Never leave a candle or cooking food unattended. In fact, most house fires originate in the kitchen due to unattended cooking. Practicing fire safety can help save lives and save your home from fires this holiday season.
21. Stay Safe on the Road
Whether you're traveling to and from your family or friends' homes this holiday, you should take time to practice safe driving on the road. Prepare for icy conditions, put chains on your tires, and also avoid driving drunk. These can help you avoid accidents and save the lives of other drivers.
Staying Healthy is Easy
By following the above holiday tips for staying healthy, you can enjoy this holiday season with loved ones while avoiding accidents, illnesses, and even improving your overall health.