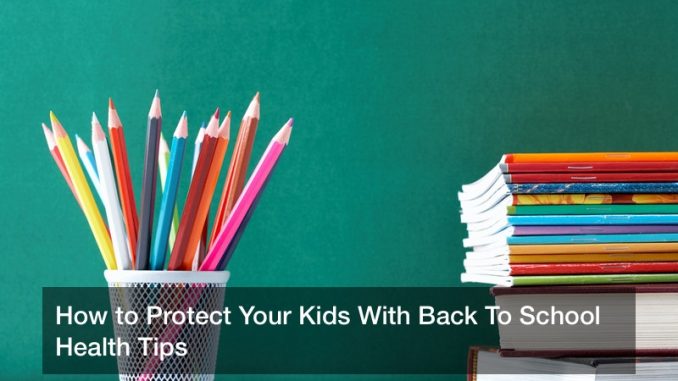 As the COVID bans are lifted many kids are headed back to school. Back to school health, this year has taken on a new meaning. Keeping your kids healthy this year is more important than ever.
How can you ensure back to school health this year? There are some simple things you can do that will help to keep your child healthy.
Start With a Clean Slate
Whether your kid is starting middle school, kindergarten or high school, back to school health should be a priority. Before school starts is a great time to get all those annual or semi-annual checkups out of the way.
Make appointments to have them checked out from head to toe. This way if they need to make any changes or they need any care you can get on the ball with it before school starts. Here are some appointments to make:
Primary care physician. Make an appointment to get their well-child checkup and while you are there your doctor can do any sports physicals that are necessary. While many schools have canceled their extracurricular activities, it is always good to have these physicals done just in case the program gets a reboot this semester.
Make an appointment with your childrens dentist for a check-up. Any issues can be addressed during this appointment. A cleaning, maybe some sealants will ensure that they enjoy good oral health this school year.
A vision check is a good idea. Children should have their vision checked annually. 20/20 vision is very important to learning. Corrective lenses if needed can solve other problems that can stem from having to strain to see, like neck pain.
A visit with the pediatrician will ensure that all their vaccinations are up to date and any minor issues they have been experiencing can be dealt with so that their back to school health can be stellar. Seeing the dentist before school starts will ensure that their oral health is in good condition. The eye doctor will make sure your kids can see the board and have no impairments to learning.
Millions of kids each year lose valuable classroom time because of sick days. Starting your kids off on the right foot by addressing any problems before school starts will ensure that they are present and ready to learn. Put your medical insurance to good use and get all the appointments out of the way before the school year starts.

Special Back to School Health Requirements
Some students will have specific back to school health requirements that they will have to meet. For example, preschools require special screens, shots, and health checks. Check with your child's school to ensure that you are following all the back to school health requirements.
There may be some special COVID 19 health requirements that are implemented for the new school year that may not have been in place last year. Check with your school to learn if anything has changed.
Your Child's Mental Back To School Health
The pandemic has changed everything for everybody including your kids. They likely have gotten used to the dining room furniture as their classroom, it may be a little more challenging to get them back into the swing of things this semester.
Many children are excited to finally get out of the house and get back to school, but many kids, are scared, apprehensive, and worried about returning to school. As a parent, it can be heartbreaking to watch your child struggle with feelings of anxiety.
There are things that you can do to help improve their mental back to school health including:
Setting up a routine. Children thrive when there is a routine in place. It helps to ease anxiety when they know what to expect.
Limit screen time. There are some really crazy ideas floating around the internet about the pandemic. Limiting their screen time can limit their exposure to the craziness.
Be honest, but be optimistic. Yes, it is a scary time, but it is important that you put on a brave face for your children. It is not okay to talk within ear shot about being afraid for them to return to school. That is a strictly adult conversation that you should have with adults.
If you have a child custody agreement with their other parent, be sure that parent follows the same routines that you do. You also may want to discuss with your child's other parent how you will handle questions about the pandemic. It is important that a child gets the same answers from their parents whether those parents are in the same household or not. A united front will reassure your child.
Of course, there are things you should never talk to your kids about like not getting a child support payment that was due or dealing with financial problems. Children cannot be expected to comprehend adult issues. When they are exposed to adult problems, it can cause a great deal of upset in their lives which can negatively affect their mental health. If you notice that your child is more apprehensive than usual, or losing interest in the things that they loved to do, contact a mental health professional to help get them back on the right track.
Things Will Be Different This Year At School Prepare Them For It
Many states are returning to school, but with new guidelines. For example, social distancing rules are being put in place in most schools. This can mean that your child will no longer be able to sit right next to their best friends. It can also mean that recess time is greatly limited. PE classes may be different.
In some districts going to the cafeteria for lunch has been put on hold. Kids are being required to sit at their desks to eat. How do you prepare your child for the new normal at their school? You talk to them about it. Talk to them about back to school health concerns in an age-appropriate manner that does not alarm them but helps them to understand what to expect.
The information you share should always be honest but it does need to be age-appropriate. Here is an example. Annie is 7 years old, and every year on her birthday her mom brings cupcakes to school, this may not be possible this year. Annie's mom knows that Annie really looks forward to her birthday in school which typically falls about three weeks after school starts. Annie's mom orders her a birthday tee to wear on her big day, and some low-cost gift certificates from a chain restaurant for a free ice cream cone to share with friends in her class, and then she explains to Annie that is how they will celebrate her birthday with her classmates this year.
Is it Annie's ideal way to spend her birthday in school? Probably not, but given the situation it is the best solution for right now. The point is you want to have something positive to offer when explaining the changes to offset some of the grief of the loss.
Back to school health is a priority for every parent, every teacher, and every school district more so now than ever. Help your child to understand how important:
Social distancing is. Teach them how to do elbow bumps to greet their classmates instead of the customary hug. Talk to them about keeping a safe distance for at least a little while until things are under control.
Talk about handwashing and how important it is. Set up a routine at home, where hand washing commences after just about every activity. Get them used to washing hands as soon as they come home from school. Remind them to wash their hands at school frequently.
If your district is requiring masks buy them fun masks made for little faces. Model good mask behavior in front of them. Even if you do not necessarily believe that masks work, if the school is requiring them, fake it until you make it to keep the peace for your child.
Back to school health can be ensured by teaching your child the value of good personal hygiene, and handwashing. According to recent reports children are less at risk for COVID 19 but of the children that are contracting the virus, some are getting very sick.
It is always better to err on the side of caution and teach your child how to guard their health during this pandemic. Their back to school health depends on it.
What Happens When Back to School Health Is Compromised
COVID 19 has put a new twist on getting medical care. Kids get sick often. Flu season is right around the corner. Unfortunately, this year, when flu season hits, there will be a bit of a panic to be sure. Flu symptoms and COVID symptoms are not that far apart.
What do you do when your child gets sick this year? First thing is to rule out COVID 19. There are free testing sites all across the country that you can bring them to. Of course, the only issue with that is not getting treatment for the real problem if it turns out to be not COVID. While you are waiting for test results (about two to four days) your child could be being treated for the real problem.
Your doctor can help. If your child is prone to things like strep throat, tonsillitis, and other common childhood infections, have them tested for COVID but advocate for them with the doctors office as well. If you know that your child is suffering from the same symptoms they had last year when they had strep throat, tell your doctor, and ask for them to call in the antibiotics, or request that they test them at the same time for strep.
You may have to push a little more this year to get the treatment started because of COVID 19 but it is important that infections are addressed as soon as possible. Waiting on results is simply not an option if your child has a common health concern and you know that is what it is. Trust your intuition.
Of course, the school is going to want documentation that your child has been tested for COVID 19 and the test results were negative before they will let them return to school. If your child does test positive for COVID there will likely be a mandatory quarantine period before he or she can return to school.
Check with your school district about how suspected cases are handled in the school, and what the quarantine period is for children that are found to have tested positive. You may also want to check on:
The proposed procedures if your child gets sick in school. Sometimes you send the kids to school in the morning and they are fine, three hours later they are running a fever. What will happen if your child gets sick at school? Will they be isolated?
If a kid in your kids class gets sick are you notified? What if another kid in the classroom is tested and COVID positive? How does that work? Are notices sent home to parents? What special steps are taken to ensure the safety of the other kids who are not sick and can return to class?
Is COVID testing always mandatory? For example, if your kid has a stomach ache, or if they vomit during class, but they have no fever or any other symptom, will they have to be tested for COVID before they can return to school?
It is important that you gather all the information that you can to understand the processes in place, and how kids with COVID will be treated. Making sure your childs back to school health is not compromised will come from transparency and sharing information. You want to be able to make informed decisions for your kids and the only way to do that is to know what is happening.
There may be some extra work involved this year in ensuring your kids back to school health, but you can do it by making their health your priority.
Related:
10 healthy eating tips for the busy college student, back to school advice, back to school help for parents, best diet for students, how to eat better in college, how to eat healthy in college meal plan, how to have a healthy diet in college, tips for going back to school, when is it back to school, 10 healthy lifestyle tips for kids, 101 tips for tip top health, 5 ways to stay healthy for kids, appropriate practices in school based health education, back to school articles for parents, back to school fitness tips, back to school health tips for students, back to school healthy tips, back to school preparation tips, being healthy for kids, benefits of healthy lifestyle for college students, benefits of healthy lifestyle for students.