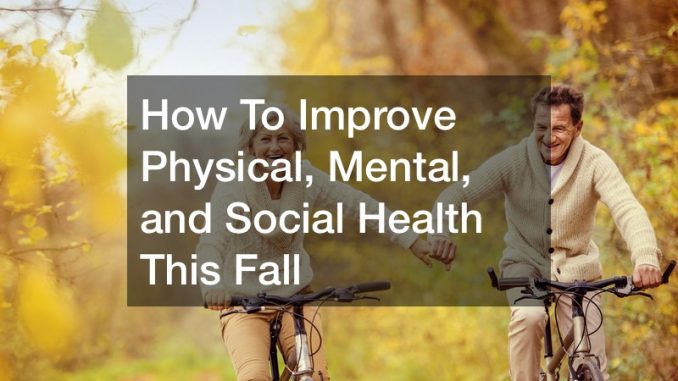 Learning how to improve physical, mental, and social health is important all throughout the year, but especially as seasonal depression begins to set in during the fall months and into winter. If you are prone to struggling during this time, you are not alone. In fact, it's estimated that Seasonal Affective Disorder (SAD) impacts over 10 million Americans every year. This condition can not only take its toll on your mental health, but it can impact both your physical and social health as well. Because of this, it's important to learn how to improve physical, mental, and social health this fall so that you can stay well throughout winter and beyond.
Mental Wellness
Seasonal Affective Disorder is first and foremost something that impacts your mind, and because it is a mental health condition, it is important to seek mental health treatment, especially if you already struggle with other conditions such as generalized anxiety or depressive disorder. When considering how to improve physical, mental, and social health this fall, mental health should almost always be considered first, as it can impact the other two greatly. If you aren't feeling mentally well, you're more likely to neglect your social and physical needs.
If you are struggling with any mental health issues, it's important to seek treatment from your primary health care physician, who may either prescribe something to help or refer you to a therapist who can help further identify issues so that the proper help can be provided.
Positive reinforcement can also be something to consider if you are feeling the effects of Seasonal Affective Disorder. For example, leaving positive notes for yourself in specific locations where you will see them often or investing in a decorative metal sign with a positive message can help mentally remind you that everything is going to be okay.
Mental wellness can also be improved by working on physical and social health, meaning that you shouldn't just settle for focusing on one, as they all intrinsically work together to impact your overall wellbeing.
Physical Wellness
When learning how to improve physical, mental, and social health this fall, it's important not to let your physical health fall to the wayside. Although the days are getting cooler, this doesn't mean that you can't take advantage of activities that can improve your physical health. For example, taking a bike ride through a nature preserve can be a great way to relieve stress and improve your physical health. It can also be a relaxing way to take in the brilliant sight of all the trees turning color. If you have a bike but it hasn't been ridden in a while, you may want to find a bicycle repair shop to ensure that it is in good condition before you head out. If you currently don't have a bike, you can always go for a hike instead, which can be just as beneficial.
Being in nature can have a lot of positive physical and mental benefits. For example, being in nature, or even viewing images of nature, has been shown to reduce stress, fear, and anger. This, in turn, can reduce blood pressure, heart rate, and muscle that can otherwise negatively impact your physical health.
If you don't live near a natural area where you can hike or ride your bike, you can still take advantage of getting some fresh air, even as the temperatures turn chilly. If you have the space, you can create a patio or deck for your home which can give you a place to enjoy the outdoors. A deck and patio contractor can create a great space for you to enjoy or they can fix up an area that you already have. Preferably, you should consider adding a cozy fire pit or outdoor space heaters so that you can stay comfortable while enjoying the outdoors for longer.
Scheduling an appointment with a local chiropractor could also be beneficial for your physical health this fall, as it can have many benefits that many people overlook. Chiropractic care can help reduce neck and back pain, and it can reduce dependence on pain killers. These visits can also improve posture over time, and potentially reduce symptoms of scoliosis and osteoarthritis. If you're able to lessen physical pain, you can stand to improve your ability to better care for your physical health, and lessen the stress and emotional toll that chronic pain can cause.
Another great way to improve physical wellbeing is by making time to visit your local med spa once a month. Med spas provide a calming, stress-relieving environment and they can provide numerous treatments and programs to help you with your physical wellbeing.
While treatments can vary between med spas, some offer treatments to help control health conditions such as type 2 diabetes. This can include help with nutrition and fitness, all overseen by a professional who is trained to help find the best options and plans for you. Some med spas also offer natural hormone replacement therapy which can be beneficial to many people as they age, since natural hormone production begins to slow between the ages of 30 and 35. By the time a person reaches the age of 50, hormone levels can drop by between 60 to 80%, which can cause fatigue, difficulty with memory, and decreased sexual health. By visiting a med spa that offers natural options to boost hormones, you can reduce these risks and improve your overall physical wellbeing for longer.
In addition to this, you may want to consider starting to take a vitamin D supplement, since a majority of our vitamin D comes from sunlight, which will become more scarce closer to winter. Getting your yearly flu shot can also help boost your physical health and keep you healthier throughout fall and winter. You may also want to consider investing in a gym membership that can give you the opportunity to exercise even when the temperature gets too cold to exercise outside. If exercising in a gym isn't for you, you can always consider investing in some light gym equipment for your home, so you can improve your fitness without having to leave the comfort of your house.
That said, it could be worth investing in a gym membership or group fitness classes, as these can also help improve socialization, which can be very important when thinking about how to improve physical, mental, and social health altogether.
Social Wellbeing
Social wellbeing is important, as it can help bolster mental health, which in turn can impact physical wellbeing. When considering how to improve physical, mental, and social health this fall, you shouldn't neglect to find ways to connect with other people. Thankfully, there are many great ways to do this, even as the days get shorter.
One way to improve your social health is by looking for opportunities at your school. Many schools, even those offered as a public school alternative, offer opportunities for socialization through clubs, organizations, and sports. When thinking about how to improve physical, mental, and social health, this can be one of the easiest and best ways to find opportunities to improve your social health. You may also find local groups and programs that offer skill building for school where you can meet other peers that you might not have otherwise met. This can give you the ability to connect with new people, forge new friendships, and keep your social health up through the fall and beyond.
Another way to help improve social health is by making it a point to plan activities with friends and family to help keep in touch. You may consider hosting activities nights where you pick different themes or activities for your friends or family members to take part in. For example, you could invest in iron on vinyl rolls and make a night out of creating your own t-shirt designs. Other ideas can include spa nights, movie nights, cooking nights, cocktail nights, and game nights. By making it a priority to host interesting and engaging gatherings at your home, you can help boost your social health and the social health of your guests.
In addition to hosting activities, you may also consider improving your social health via gift-giving. As fall comes to an end and the holidays begin to roll around, it's worth considering early what gifts you can give to your friends and family. Not only can this boost their mood, but the act of giving can also make you feel better, which boosts both your mental and social health. Gifts can be as simple as a bouquet of flowers or something more expensive from your local jewelry shop.
If you have recently moved to a new area or are in a place without a lot of friends or family, you can still take advantage of many opportunities this fall to help improve your social health. Even if you are currently not in school, you can still find plenty of community activities or local groups that you can engage with and take part in activities with. Consider looking for local hobby groups or exercise groups so that you can not only meet new people but learn new skills.
Regardless of what you decide to do, one of the most important things to keep in mind is that you should always seek to surround yourself with good people who can act as not only a means of socialization but as a support network. This is especially true given the prevalence of Seasonal Affective Disorder. It can be difficult to manage your mental health without a solid support network of people that you know have your back. For this reason, the importance of social health cannot be overstated, and it can have a large impact on mental health.
Taking Care of Yourself This Fall
When considering how to improve physical, mental, and social health, it's important to consider how they all go together. Mental health can impact both your physical and social health, while social health can impact mental health negatively if you lack interaction, support, and meaningful connections. When you feel poorly physically, this can also take a toll on your mental health, which can create a cycle of unhealthy behaviors. Because of this, learning how to improve physical, mental, and social health is something that should be considered as a whole, and not just as an individual endeavor.
For example, if you are struggling with your mental health this fall, seeking mental health treatment, making healthier lifestyle choices, and socializing with people can help you feel better mentally, physically, and emotionally. Similarly, if you are struggling with staying physically healthy, you may benefit from engaging in exercise classes, which can also allow you to find others who understand your struggles with whom you can bond and create meaningful relationships, which benefits your social and mental health.
While fall is a season that many people favor, it can also present a lot of unique challenges when it comes to improving your physical, mental, and social health. As the days grow shorter and the temperatures drop, it becomes increasingly important to look for ways to take care of your needs so that you don't risk falling into a slump when winter comes. Starting early can also give you the benefit of being able to create a reliable routine that can allow you to more easily meet all of these needs, without needing to struggle with freezing temps or heavy snowfalls.
If you're worried about figuring out how to improve physical, mental, and social health this fall, keep these ideas and tips in mind so that you can put yourself in a better position to stay healthy and happy throughout the season.