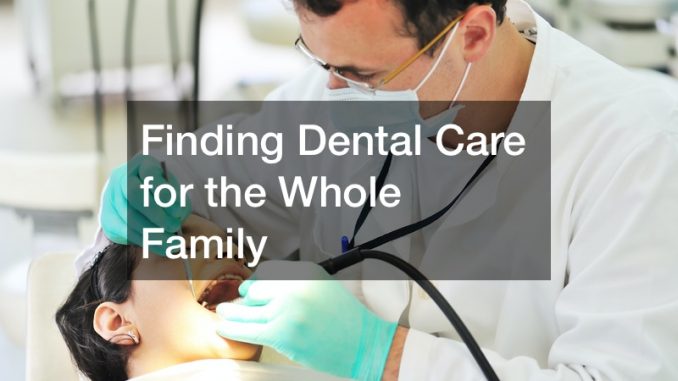 Oral health is significant, but it is often an overlooked aspect of a person's extensive health care. Some common oral diseases and infections include but are not limited to gum disease, tooth decay, and bad breath. Factors such as genetics and habits play a critical role in the susceptibility to many of these dental conditions. But investing your time and effort in oral care can help to reduce the effects of various oral conditions. Such dental care involves different elements such as regular brushing of teeth, flossing, and paying a visit to your dentist.
Is your whole family taken care of when it comes to dental health? This is an important question that many people should be asking themselves, as it's not just their dental health that matters, but their whole family's. However, dental care is expensive, and you need to ensure that you can find the right dentist to take care of your family's oral health care needs. Moreover, you need to find someone that the whole family can agree on even if they meet every family member's needs. Finding dental care for the whole family should not be an arduous task. We have compiled some tips that can help the process easier for you. Keep on reading to find out more.
Insurance
Finding dental care for the whole family may be time-consuming because there are a lot of factors that you need to consider. If you will be using healthcare insurance to cover dental care expenses such as teeth whitening for each family member, you need to find out if your dentist accepts your insurance. If they do accept insurance, is the dental practice in your network?
It is always a good idea to find a family dental practice that works with your insurance and that has a reasonable fee structure. Dental procedures can range from affordable to significantly expensive. If your family is working on a restricted budget, it may be ideal to compare different types of fee structures before committing to the first available dental practice.
Having a family dental plan is a good solution to curb the expenses that each member would have to pay for individual dental insurance. There is a wide range of family dental insurance plans that are available on the internet. If your family is not covered, now would be the most opportune time to get a dental insurance plan that includes the network of dentists within your radius.
Education and Credentials
Dentists in the US have to complete their studies in an accredited dental school. Additionally, they have to pass practical and written exams to graduate. However, learning should be a continuous effort to ensure that they know and understand new technologies and procedures that are being innovated. The fastest way to check if your prospective dentist has adequate education and credentials is by checking out their website.
An established dental practice will be able to answer any questions that you may have such as how long they have been practicing for. If there is more than one dental practice, you need to find out if the other dentists have equivalent educational qualifications. Calling their offices can help you ascertain whether they cater to children and have the resources to conduct child wellness exams or not.
You would be surprised to find out that some dentists don't work with children that are below a certain age. When you are finding dental care for the whole family, you need to consider that a pediatric dentist may not be available at the dental practice that you are interested in.
You also need to consider that your children may require different dental services when compared to the rest of the family. In most cases, children require braces. If you are looking for dental care services for the whole family, you need to find out beforehand if your preferred family practice offers these services and an adequate routine maintenance program.
Another important consideration is whether the dentist has the adequate education and practical experience to handle issues that are associated with family members who have dental phobias. If you can find a dentist who understands these fears and provides patients with ways to make the process easier is a bonus. However, you need to do your research before you visit them.
Testimonials and Reviews
Testimonials and reviews play a significant role in determining your choice of finding dental care for the whole family. What the testimonials and reviews look like can tell you most of what you need to know about your prospective dentist. It would be beneficial if you have a list of close friends and family who have used their services. This will ensure that you are choosing a professional who has a successful track record.
You can also consider using varied websites to observe what the overall experience is with past patients. The more positive reviews, the more likely it is that you are making a good choice. You have a high probability of receiving adequate care with the attention that you and your family need. If you are uncertain about which sites to use, you can consider checking out these below.
Facebook

Yelp

Zocdoc

HealthGrades
While doing research can be time-consuming, it will benefit you and save you from headaches.
Services
When you are in the pursuit of finding dental care for the whole family, it is important to find a dentist who offers a wide range of services. While dentists offer professional teeth cleaning as a standard service, a wider range of other dental services can benefit your family's needs more. As a result, it is crucial to look for a dentist that encompasses all types of services. This will help you to prevent looking for other dentists to provide you with the services that you require. You can have one dentist who provides you with comprehensive dental care.
If you are having trouble with thinking of the types of services that your dentist should provide, we have curated a shortlist of some services to be on the lookout for.
Treatment of gum disease

Wisdom tooth extractions

Root canal treatments

Cosmetic dentistry

Kids dentistry

Preventative dentistry
Covering your bases before you use a dental care practice can help you avoid disappointments. Moreover, if you can find a dentist in advance you can start building a strong rapport with them and outline the needs of your family beforehand.
Technologies
Technology has had a great influence in all sectors of the world. The dental hygiene process has become easier and more advanced as a result of technological development. There has been a significant improvement in diagnostic tools and monitoring devices that are engineered to detect lesions and several oral diseases. When dentists invest in improving their technologies, they collectively facilitate the enhancement of patient assessments. This is crucial for delivering adequate oral care interventions.
Finding dental care for your whole family requires you to do some research on the dental procedures and technologies that are being offered. It is easy to find a broad range of innovative services and procedures such as family dentistry and restorative care. However, not all dentists stay up to date with their technologies and procedures. As a result, calling ahead of time to find out if they have the latest technology to do procedures such as dental restoration can be advantageous for your family.
A family dentist who has expertise in different dental fields is a great choice. It is always reassuring to know that you have a dentist on call who can offer you a single tooth replacement with more efficient and advanced tools. If any member of your family has had a root canal done previously, finding a dentist who can perform rotary endodontics for treatments is essential. The nickel-titanium provides precision and reliability for faster and quieter treatments when compared to manual instrumentation.
Office Culture
If you can pay a visit to the dental practice you may be able to gauge the atmosphere and culture in the office. Do you think that your family will enjoy the office culture? Will your children feel comfortable there? Are the staff members accommodating and friendly? If your family feels comfortable with your choice of dental practice, they will be more likely to attend their appointments. The culture and atmosphere can help you to set a good example for your kids to take better care of their oral health.
A family dentistry practice should offer more than skills and expertise. The dentist that you choose to care for your family's dental needs should be someone with whom you will be able to build a strong rapport. This means that they should be able to identify potential dental issues before they become a problem. Moreover, they should be able to sit down with you or any member of your family to discuss the most ideal treatment options to mitigate symptoms. As a result, you may also have to see if there is a correlation between the office culture and the dentist's personality.
If you have children, you want to find a dentist who has had experience with both young and old patients. Ask yourself if your prospective dentist meshes well with the rest of the family and if you will be able to use their services for an indefinite period. These are some qualities that we think you can consider when you assess your family dentist.
Communication

Trustworthiness

Displays compassion for patients

Easy going

Detail-oriented

Enjoys their services
These qualities and more should be able to assist you to ascertain whether you and your family will find the interaction comfortable or not. When you can trust your dentist, it helps to put yourself and your children in particular at ease with every visit. This is crucial to help them to look forward to getting their treatments regularly.
Fun Facts About Dental Care
Here are some interesting facts about dental hygiene that you can share with your family.
Did you know that the average American will spend a total of approximately 38.5 days brushing their teeth in their lifetime?

Did you know that there are more than 300 types of bacteria that make up dental plaque?

Did you know that in the olden days people used tree twigs as toothbrushes?

Did you know that tooth enamel is known as the hardest part of the human body? However, this doesn't mean that you should use it to open up bottle caps!

Approximately 25% of American adults do not brush their teeth twice on a daily basis. This can increase the chances of tooth decay by an estimated 33%.
The Bottom Line
Finding dental care for the whole family is an important part of ensuring that you provide adequate medical care for the whole family. It should be a decision that is not taken lightly because it involves many considerations. The first step is ensuring that you have the right kind of dental insurance that covers each family member's needs. Doing a background check on your potential dental practice should be a mandatory procedure. This is how you will be able to ascertain if the dentist's level of expertise and care meets the needs of your family members. Special attention should be given to the needs of your children because young people require different treatment options in comparison to adults.
Does your dentist over a selection of teeth aligners? Can they make your children comfortable enough to enjoy getting their routine dental treatments done? Will you be able to get those dental implants that you have been longing for? Due process is always mandatory when your health is the central theme. It is advisable to look at the quality of the services that are being provided such as leading technology for an array of procedures. It is always in your family's interests to find a dental practitioner who encompasses several of the factors that are listed above. However, practicing good oral hygiene habits can be very beneficial as well.