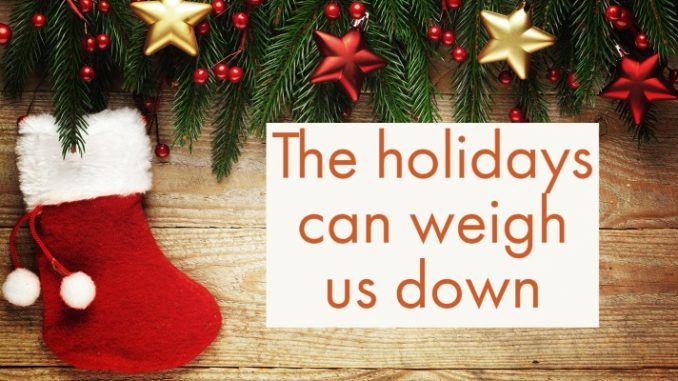 Staying safe this holiday season should be at the very front of your priorities list. During COVID-19, it's important to celebrate the holidays with loved ones while social distancing, practicing good hygiene, and also remaining in the same household. Now, more than ever, celebrating with your family can be a great way to wind-down from a busy, stressful year, and share fond memories and joy with each other. During every holiday, holiday health advice can be easy to listen to, but it's up to you to put this advice into practice.
What Are Some Risk Factors this Holiday Season?
As we mentioned, this holiday is quite different from every other past holiday season. This is because of the COVID-19 virus that is causing families to choose to celebrate at home with members of their own household, rather than travel to see families abroad or even in another home. The reason is because being in close contact with people for more than 15 minutes and without a mask puts you at risk of contracting the highly contagious COVID-19 virus. Most people don't want to wear a mask, and thus have no protection from others who might be carrying the virus.
The Importance of Asymptomatic Transmission
Though some might think that because a person isn't coughing or showing signs of a virus it means they don't have it, this is vastly untrue. The Centers for Disease Control has shown research that shows that 50% of people that have the COVID-19 virus don't even know it, and are asymptomatic or pre-symptomatic. Because of this, the most important holiday health advice you should take this season is to stay home and celebrate among loved ones in the same household. At the end of the day, there will be other Christmas celebrations and gatherings to attend, and you can be there to enjoy them.
Other Health Tips
If you're practicing good social distancing and avoiding large gatherings, you should still try and follow some bona fide holiday health advice to get you through the holidays. From excess eating to excess stress from shopping, and everything in between, the holidays can be something that takes a toll on your health. Luckily, some very easy tips and tricks can be used to help you get through the holiday season, and help you enjoy the season easier while still having fun and enjoying time with your family. Here are 15 tips you can follow to help you during your holiday season. Talk to a doctor about any new diet or exercise plans you might be undertaking, and most importantly, be safe this holiday season.
1. Learn to De-stress
Some of the best holiday health advice you can practice is learning to lessen stress levels. Stress can become a big part of the holidays, as the holidays bring more cooking, family, buying gifts, and decorating around the home. During this time, stress can easily build up and cause you to feel overwhelmed. It's important to remember the purpose of holidays is to celebrate with loved ones, and not overload yourself by buying expensive gifts and food. The time together is the most important part of celebrating. By learning to manage stress, you can greatly reduce your risk of burnout during the holidays. Some good techniques for lowering stress is meditation, especially mindfulness meditation, deep breathing exercises, and slowing down throughout the day.
2. Eat Proper Portions
The holidays are sure to include big meals set on the table, and that goes for Thanksgiving, Christmas, and even the New Year. To ensure you're not gaining too much weight and are keeping on the right track with your health, it's important to practice good portion control. The new plate diet recommended, which you can view on choosemyplate.gov, gives an estimate of how much you should portion your meals with what types of food. Protein should be about the size of your fist, and you should make half of your plate fruits and vegetables. Making small changes is the best way to make a lasting impact on your health, so start early before the holidays, so that you're comfortable choosing the proper portions during those big holiday meals. You can also vary your proteins this holiday season while keeping the same portions. According to WebMD, great health option is salmon, which if you don't know how to cook, can be picked up at your local seafood restaurant. Lean meats like chicken are also a great option.
3. Incorporate More Veggies
The healthy plate diet also suggests eating more veggies than meat, and for good reason. Vegetables are an essential part of any diet, and make it easier for your body to process and digest food by providing some much-needed fiber. If you have a hard time eating whole fruits of vegetables for whatever reason, a fruit and vegetable supplement can still help this holiday season. Eating your fruits and veggies is especially good holiday health advice, as during the holidays, heavy meals such as turkey, mashed potatoes, and gravy are incredibly common. Choose a fruit and vegetable combination that will stun your family, such as a beautiful fruit salad with fruits such as kiwis and strawberries available year-round. Or, go with a tart yet powerful fruit such as pomegranates, in season during the winter. Vegetables should be varied as well. Choose leafy greens and legumes, and combine them with a light vinaigrette for a fantastic, healthy holiday salad!
4. Practice Safe Food Handling
It's essential to practice safe cooking methods and food handling this holiday season to ensure you and your family doesn't come down with a stomach bug or food poisoning. According to the Centers for Disease Control, C. perfringens is a strain of bacteria that can quickly grow on foods left out in room temperature. Room temperature is anything ranging between 40-140 degrees Fahrenheit, and this can be an issue if you cook for your family and leave food on the table for presentation purposes. This bacteria is the reason for nearly a million cases of foodborne illness in the U.S. alone each year! It's the second most common bacterial cause of food poisoning, is seen more during the holiday season. Refrigerating and properly heating food is one of the best holiday health advice tips you can follow, and one of the easiest! You should also use a food thermometer to measure the temperature of your food to make sure it's cooked all the way through (food such as turkey). If you feel you're not going to have enough time to put everything away, cook food properly, or are just not experienced in cooking, a food delivery service can ensure you have your food hot and fresh for your family to enjoy.
5. Stay Active
It can be easy to skimp out on exercise during the holiday season. However, the best holiday health advice to avoid gaining extra pounds and to get rid of stress is to exercise. It's better to focus on exercises you can do at home, as during the holidays, gyms can be closed down. Opt for some running around the neighborhood, or some aerobic exercises at home. Visit your local sporting goods store to find the best long distance running shoes to help you during those runs around the neighborhood, or pick up some weights or yoga mat. Whatever you choose, make sure not to stop exercising.
6. Focus on Mental Health
The holidays can be a great time to gather with loved ones and great fond memories. However, it can also be a time of depression remember loved ones who have passed on, or if you have no family during the holidays. Many resources are out there to help you during these times, such as the National Alliance for Mental Illness, or local county resources to get you counseling if you need it. Don't forget to focus on your mental health this holiday season. If you want to get some serious counseling, seek help from your health insurance to get the mental health treatment you need.
7. Pick up a New Hobby
The holidays can be boring for some, since it means time off work or even school. Pick a new hobby to help strengthen your mind this holiday season, and even learn something new. If you're on break from school, taking the time to review your old classes or prepare for the new semester can help lessen your stress when you go back in. If you're looking for a new lobby, consider a new essential life skill, such as hunting or swimming. Fibreglass swimming pools are great options to install into your backyard and help get your feet wet (literally).
8. Continue with Regular Self-Care
Many people spend the holidays getting ready for celebrations, getting their children ready for parties, and also taking care of their kids while they're on break from school. It can be very easy to forget self-care routines. Some of the best holiday health advice is to maintain any self-care routines that have been beneficial for you. Dental hygiene, for instance, can be easy to neglect, yet is important especially if you have braces for adults, or are prone to cavities or toothaches. Facial cleansing routines, bubble baths, and nightly meditation routines can all be great not just for your physical health and hygiene, but your emotional health during the holidays as well.
9. Don't Drink Alcohol
Holiday celebrations are usually filled with food, but also with drinks such as holiday cocktails, eggnog, and wine. Even if you only drink for a bit, it's important to have a driver that is able to be a designated driver to avoid an accident. Drinking can significantly reduce reflexes and your ability to respond to other vehicles. In addition, over time, drinking can be detrimental to your health. Consider medical treatment if you feel like you won't be able to avoid over-drinking this holiday season. Getting help for pre-existing alcoholism might be the best holiday health advice you can ever follow to keep you safe.
10. Don't Smoke
About 34 million US adults smoke cigarettes, so chances are, you or a loved one will be smoking this holiday season. However, it can be a great benefit to stop smoking, as chronic health conditions can result from this, such as cancer, COPD, bronchitis, and emphysema just to name a few. Your health insurance agency can answer any questions you have about resources to help you quit smoking. In the meantime, making a holiday New Years resolution to quit smoking is the best holiday health advice you can take to ensure you have a happy, healthy life ahead.
11. Practice Good Hygiene
Now, more than ever, good hygiene is key to stopping the spread of COVID-19, keeping your family safe, and ensuring you don't get sick this holiday season. The prevalence of the common cold and flu also go up during the holiday season. Some sound holiday health advice that's easy to follow is to wash your hands, cover your coughs and sneezes, and visit the doctor if you're feeling ill. If your children feel ill, ensure they stay home to give them time to rest, and take days off work if you can to avoid spreading any infection you might have.
12. Stay Safe on the Road
Due to an increase in people drinking and driving, icy road conditions, and overall business during the holiday season, accidents are bountiful and can happen to you at any time. It's important to always ensure you're practicing safe driving, such as using lights, driving the speed limit, and buckling up. If you find yourself in an accident, health claims administrators can help you earn some of the money you might lose from being injured or off work back.
13. Get Adequate Sleep
The holidays can be stressful, but what can add more stress is not getting enough sleep. Certain holidays, such as New Year's Eve, are meant to be celebrated late at night during midnight. If you can't get the holidays off for work, this means losing out on much-needed sleep. Certain cultures also like to celebrate Christmas during Christmas Eve at midnight, and even church services are available late into the evening. Though it might be fun to celebrate with your family late during the holidays, make time to set aside for sleep, or even a nap during the day after. Not getting enough sleep will cause you to be more irritable, less focused, and overall uncomfortable during the holidays. Some of the best holiday health advice you can follow is to drift off to sleep, and leave Santa to do the rest!