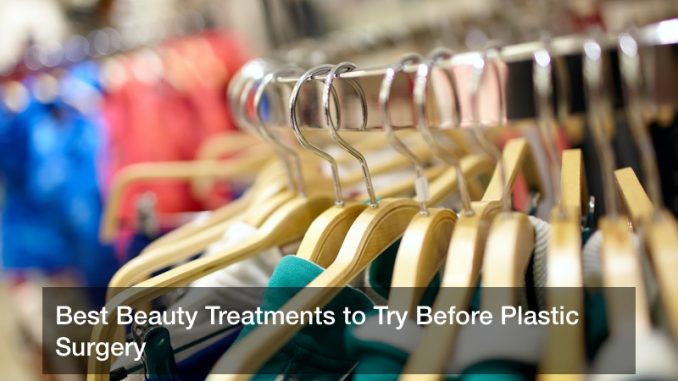 Obesity affects one out of every three adults, and almost one out of every five children. It's no wonder that people look to the best beauty treatments, such as surgical procedures, to help them get rid of stubborn fat and look better.
While plastic surgeons can almost be seen as miracle workers, cosmetic surgery is invasive and sometimes risky, and people are often made uncomfortable by it. In this article, we'll be discussing the best beauty treatments to try before plastic surgery.
As with all health care services, always do your own research thoroughly before committing to one of these best beauty treatments. And remember not to fall prey to surprising discounts or too-good-to-be-true deals.

Brow Lamination
Brow lamination is becoming increasingly popular as a temporary, non-invasive alternative to microblading. Brow lamination is especially well received in the United Kingdom, where British stars like Emilia Clarke and Cara Delevingne rely on it for their signature thick, full eyebrows.
The process could be described as being like a perm for your eyebrows, only instead of curls, a setting lotion is used to help the eyebrow hairs stay up when they're brushed forward. The results last for around six weeks. However, because the treatment involves some pretty harsh chemicals, people with eczema or sensitive skin may want to consult with healthcare counseling services before giving it a try.
Lip Blushing
Next on our list of best beauty treatments is lip blushing, which is essentially a semi-permanent lip stain: a cosmetic tattoo that corrects the color of your lips while also enhancing their shape and size. Some people even claim it helps make their lips more symmetrical as well. Once the healing process is done, the lips are left with a more natural look than lipstick might provide, while also enjoying the added benefit of fuller, plumper lips.
The treatment involves very small needles which deliver deposits of pigment, layer by layer, into the skin. How long the effects last will vary from person to person, but it's supposed to last between two to five years.
Teeth Whitening
When it comes to physical enhancements, cosmetic dentistry is typically less invasive than plastic surgery. That's why the next item on our list of best beauty treatments is teeth whitening.
There are dozens — if not hundreds — at-home teeth whitening kits on the market, and most of them are surprisingly affordable. However, these have their drawbacks, as they're usually difficult to use and limited in their effects. Many at-home kits only target the front teeth, leaving the sides of your teeth unbleached and creating an uneven smile. Most of them can also only make your teeth as white as their natural color already is, so if your teeth are naturally a little bit yellow, certain DIY kits might disappoint you. Meanwhile more advanced kits may offer more impressive results, but these are typically more difficult to use.
Instead, you should consider actually seeing a cosmetic dentist for your teeth whitening treatments. Besides ensuring that you'll get the best tools and treatment for the job, you'll also be relying on an expert instead of trying to understand DIY instructions yourself. While teeth whitening isn't permanent, your results should last for up to three years.

Non-Surgical Nose Job
Traditional rhinoplasty treatments are painful and invasive, and they typically involve a long period of recovery time. On the other hand, a non-surgical nose job is done using injections: fillers such as hyaluronic acid or Juvederm. This treatment is ideal for people who want to smooth out bridge bumps or make their nostrils more symmetrical.
Although the process is considerably simpler and less painful than surgery, it has its limitations. Non-surgical nose treatments can't reduce the size of your nose, so people who want smaller noses might not find the treatment helpful.
Brazilian Butt Lift
Brazilian butt lifts have become more popular than ever, thanks to famous celebrity figures like Beyoncé and Kim Kardashian. This minimally-invasive surgery uses your own fat, extracted from other areas of your body, which is then injected into your butt to add shape and volume.
Lip Injections
If your lips are thinner than you'd like them to be, or they're asymmetrical and you're self-conscious about them, lip injections may be right for you. Not only can these injections transform the lips, but they can also change the way an entire face looks.
Injectables can contain fillers such as Juvederm, or they may utilize fat that's been removed from one's own body. A topical numbing agent is applied to the lips or face, then the filler is injected in and around the lips. There's practically no recovery period involved, as normal activities can be resumed immediately. A single treatment can last between six months and a year.

Acne and Other Skin Care Treatments
If you suffer from a skin condition like acne or rosacea, then one of the best beauty treatments for you to try would be skincare treatments that target your condition. Most skin conditions like acne can be treated using over-the-counter creams and other products. In seeking treatment, you'll need to consider your own skin type, and you should also expect to try a few different products before you land on one that works for you. For conditions that are more resistant to treatment, such as rosacea, you should find a good dermatologist who can recommend something like rosacea therapy.
Laser Facial Treatment
Fractional laser treatment is very popular for minor skin imperfections, such as sunspots, large pores, and dullness. You can also use laser treatments as part of an anti aging therapy plan. It's a painless procedure that can be done quite quickly, with hardly any downtime afterward. The process involves a laser want which is moved across your face, brightening your skin tone and minimizing pores. The only side effect to speak of us some mild redness, like a slight sunburn, but it goes away quickly.
Chemical Peels
It's essential to remove old skin to make way for new layers to grow in its place. Chemical peels do this quite effectively, helping to reduce the appearance of deep wrinkles, acne scarring, and sun damage. Chemical peels vary in strength, from mild treatments that can be performed in under an hour to stronger concentrations that require some amount of recovery time.

Oxygen Facials
It's said that celebrities swear by non-invasive oxygen facials. They're more clinical than your average facial — perhaps more in line with what you'd expect from a state-of-the-art rehab facility than a cosmetic treatment facility.
The treatment involves a technologically advanced compression machine that pushes oxygen infused with small-moleculed skincare products (such as hyaluronic acid, vitamins, and botanicals) into your skin with a pressurized stream of air. As you can imagine, these treatments aren't quite as pampering as traditional facials. But they're thought to return balance to the skin, lessening the appearance of fine lines and making the skin tone brighter.
Coolsculpting or Cryolipolysis
Coolsculpting is nothing new, but it's gradually gaining traction as an alternative to invasive liposuction procedures. Coolsculpting is used to target stubborn pockets of fat that won't seem to go away with traditional methods: love handles, belly paunch, and double chin, for example. While liposuction is typically used to target larger areas, these small pockets of fat that people tend to struggle with the most are the perfect problem for coolsculpting to solve.
The process involves handheld paddles that suction your skin while a cooling system freezes it, which causes fat cells beneath the skin to be destroyed. A therapist will then massage the area firmly to break up the fat, which is then eliminated by your body naturally.
It typically takes a couple of months and more than one session to see results, but afterward, the results are permanent as long as you can keep the fat off from then on.

Botox
Botox continues to take the lead in the category of best beauty treatments. The injectable treatment forces facial muscles to relax, producing subtle but effective results. The procedure is quick and practically painless, capable of being done between shifts during your lunch break and leaving you looking refreshed and youthful instantly. Considering how quickly and easily it can be done, as well as the dramatic effects it offers, it's no wonder it continues to be one of the most popular beauty and health care services.
Body Contouring
Cellulite is very common — so common, in fact, that it would honestly be difficult to find a woman who doesn't have any. Unfortunately, most women would gladly be rid of theirs, which naturally paved the way for body contouring.
Body contouring machines, like the Velashape III, combines multiple technologies that work together in combatting cellulite and tightening the skin. Infrared, radiofrequency, tissue manipulation rollers, and pulsed vacuums are used together to heat up fat cells, connective tissue, and collagen fibers. With multiple treatments, this results in improved elasticity, enhanced skin texture, and reduced cellulite.
Try CBD Facials
Cannabis beauty products are finally going mainstream, and some of the benefits claimed by proponents are certainly impressive. CBD facials incorporate soothing CBD oils into traditional massages, giving a much-needed boost to dull skin. Different facials involve cleansing, exfoliating, and massaging, depending on the results wanted. Certain cannabis beauty products are thought to help with acne, eczema, psoriasis, and rosacea. CBD might not be available everywhere, but you may be able to find cannabis delivery services in your area.
Laser Lipo
This particular liposuction treatment blasts body fat with low-wave lasers to liquify it, then removes the liquified fat through a thin tube called a cannula. The fat is much easier to remove in its liquified state, which makes laser liposuction considerably less aggressive than traditional lipo. In more sensitive areas, like the face and neck, the fat doesn't even need to be removed manually, as the body will eliminate it on its own. The procedure isn't cheap, but it involves less downtime than traditional liposuction treatments.
Chin Fullness Reduction
Finally, a medical spa may offer a straightforward way to deal with that stubborn double chin. This non-surgical, non-invasive procedure reduces double chins and contours the jawline. This is often performed with Belkyra, a product containing doxycycline acid, which is a naturally-occurring substance that absorbs fat cells. These injectable fat destroyers combat chin fullness faster, and with less discomfort, than traditional procedures like neck liposuction.
Mesotherapy
If you haven't heard of it before, mesotherapy may sound like something practiced at an addiction treatment center. It's actually a broad term that refers to a non-invasive cosmetic technique, involving injections of various products to treat multiple conditions. Vitamins, homeopaths, pharmaceuticals, hormones, and enzymes are injected into the skin, helping to treat hair loss, tighten the skin, minimize cellulite, lighten pigmented skin, and more. While there isn't much research backing up mesotherapy, and it isn't even FDA approved, many people believe in it and boast great results. It may not be one of the best beauty treatments, but it's certainly becoming one of the most popular.
Thermage
Thermage is a popular non-surgical skin tightening procedure. It produces varying results, but its advantage is that it requires very little downtime after treatment. It's supposed to take years off your face with radiofrequency energy that stimulates collagen production. Proponents of the treatment say that it's painless and requires no recovery time, however, some people who've undergone the procedure say otherwise. It can also require multiple sessions before results are noticeable. Still, it's an option you should look into before opting for plastic surgery.
Liquid Face Lift
Thanks to liquid facelift, you no longer have to go under the knife to remedy sagging skin and loose wrinkles. This is another non-surgical procedure that involves injectable hell fillers, such as Juvederm or Restylane, to gently lift facial features. This reduces wrinkles, eliminates folds, and creates a more vibrant, rested look. The results of this face sculpting procedure can last for up to two years, putting it up alongside the best beauty treatments.
Cheek Fillers
Defined cheekbones and tight skin are hallmarks of youth and beauty. Thanks to cheek fillers, volume and definition can be injected directly into the face, reproducing that youthful appearance with treatments like Restylane, Juvederm, and Perlane. Injectable fillers like these are an appealing option to those who would rather not undergo surgery.
And there you have it: the top treatments to try before cosmetic surgery. Consult with health care services for more information. Hopefully, this article has helped answer some questions you had about the best beauty treatments out there.