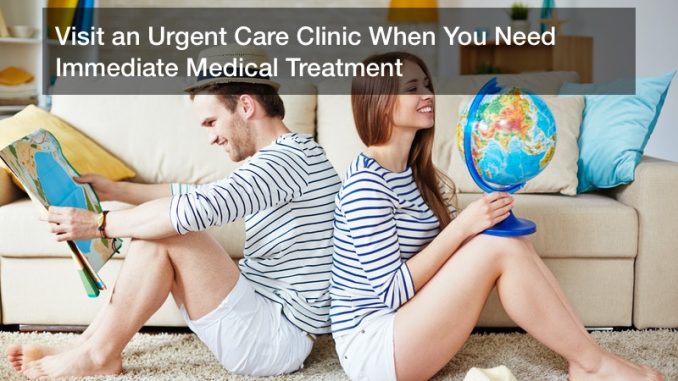 The field of urgent care medicine continues to experience growth. Currently, there are 20,000 physicians that specialize in this branch of medicine. The Urgent Care Association of America reported that approximately three million individuals seek medical attention at these centers on a weekly basis. Given this, it's not surprising to learn that more and more people are choosing this more affordable and convenient option.

What Urgent Care Centers Treat
Urgent care centers can treat a variety of illnesses and conditions. Most centers, for example, are equipped to treat fractures and have an on-site X-ray machine. Ankle sprains, colds, flus, and urinary tract infections are other common issues that can be treated. In addition to the diagnosis and treatment of illnesses, urgent care centers provide preventative care such as flu and travel vaccinations. Sports physicals and wellness visits, such as annual check-ups, tend to be offered at these facilities.

Visit Your Local Urgent Care Center to Learn More
If you require medical treatment, you can visit your local walk-in clinic and be seen by a medical professional in approximately 20 minutes, according to the Urgent Care Association. The association's 2018 Benchmarking Report indicated that 70% of patients were seen by a provider in less than 20 minutes, and almost 94% were seen in less than 30 minutes. The overall time for being taken care of for most, or 85% of patients, was reported as being less than an hour.

Since patients don't need to schedule appointments in advance, this is a convenient alternative to waiting for hours in a traditional hospital emergency room. It's also important to note that urgent care clinics are more affordable than emergency room visits.

Another benefit of urgent care centers is that 85% are open seven days a week. If your primary care physician isn't available on the weekends or after normal business hours, you'll be interested to know that most of these centers are open for extended hours. Remember that in addition to providing medical treatment for a variety of health issues and conditions, these clinics also offer preventative care.

In case you've never been to one of these clinics, there's an excellent chance one is located close to where you work or live. Once you visit a walk-in clinic, you'll be able to learn more about the specific services they provide.