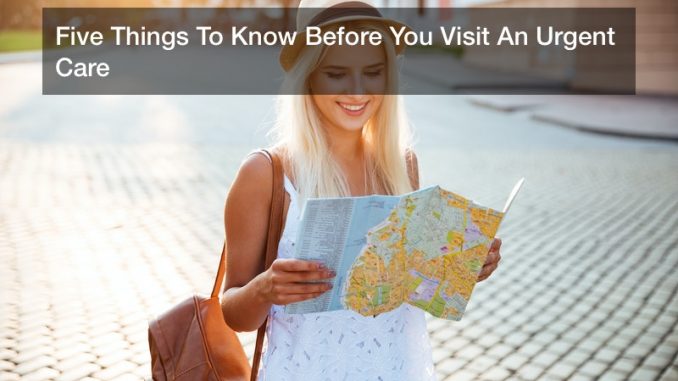 Let's be real: no one enjoys being sick, miserable and in pain. But the hard truth of the matter is that folks get sick all the time, whether it's dealing with the flu, some kind of physical pain, an infection or even broken bones.


When any of those situations or symptoms pop up, one of your best bets is to visit doctors at a local urgent care clinic. An estimated three million Americans visit urgent care facilities across the United States each week and it's not hard to see why: it's convenient, it's fast and it saves folks a lot of hassle, not to mention time and money.


If you're unfamiliar with urgent care, you may wonder just how it works and why so many people visit these centers. Essentially, they're walk-in clinics that act as a gap between the emergency room and your regular primary care doctor. It's the place to go if you're illness or ailment isn't serious enough to warrant an ER visit and you can't get in to see your regular doctor.


So if you're unfamiliar with urgent cares, here are some essential things to know before you go and visit one:
Check in ahead of time: It should be noted that a high number of urgent care clinics are walk-in facilities, meaning you don't have to make an appointment ahead of time. That being said, it can pay off to check in for an appointment online. While wait times at urgent cares are considerably shorter than at the ER or at a primary care physician—usually about 15 minutes—it can depend on how many people are ahead of you and what they're being treated for. If you can call ahead of time and reserve a spot, it may just shorten your wait time, especially if you've got a busy schedule. Checking in online can speed things up too.
Find the right center: One of the worst things you can do is wait until you're sick to find an urgent care center. A good thing to do is know where they are ahead of time and find one that accepts your health insurance provider. You may also want to find a facility that specializes in the kind of care you need I.e. sports medicine, women's health, pediatric care, etc., and to also try and find one that can communicate with your primary care physician. Urgent cares are usually easy to find, but it's best to know where they are before a problem arises.
Bring the essentials: Urgent cares can be very helpful in providing care, but they don't and shouldn't replace your primary care doctor and, as such, they don't know your medical history. To make things much easier, bring all pertinent medical documentation with you: your insurance information, a list of prescriptions you take, a current photo ID, a list of medical diagnoses as well as information for your primary care doctor.
Pick the right time: Urgent cares are usually open until 7 p.m. (and sometimes even later). But many times there are certain points in the day where the facilities are busier than others—think nights, weekends and holidays for starters. As previously stated, your wait time can depend on the number of people in line ahead of you, so before you head out, you may want to call and see what the wait time is. If you can wait things out to a less busy time, you may get in and out.
Don't go for emergencies: There are plenty of reasons to visit the ER if you have a medical emergency like chest pains, a severe burn, pregnancy issues, a deep laceration, broken bones, chronic pain, severe cold and flu symptoms or a concussion to name a few things. But for minor to moderate issues—small cuts, sprains and strains, dehydration, diarrhea or vomiting, allergic reactions, moderate physical pain, flu shots, etc—visit an urgent care.

The list of illnesses and ailments the average urgent care can treat continues to grow by the day and if you're dealing with a minor or moderate medical issue, don't hesitate to visit one of your local urgent care locations right away.